Shangri-La The Fort Manila
Shangri-La The Fort Manila: A Luxurious Haven in the Heart of the City
Shangri-La The Fort Manila is a luxurious hotel located in the heart of Bonifacio Global City, one of the most vibrant and dynamic districts in Metro Manila. With its world-class facilities, exceptional service, and prime location, it is the perfect destination for business and leisure travelers who want to experience the best of the city.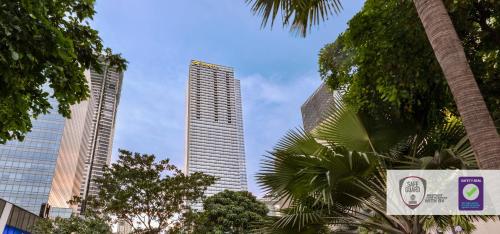 Address: 30th Street, corner 5th Ave, Taguig, 1634 Metro Manila
Phone: (02) 8820 0888
Accommodation
The hotel boasts 576 luxurious guestrooms and suites, each designed to provide the utmost comfort and style. The rooms feature elegant decor, premium bedding, state-of-the-art entertainment systems, and stunning views of the city skyline. Guests can choose from a range of room types, including Deluxe Rooms, Premier Rooms, Executive Suites, and Specialty Suites.
Dining
Shangri-La The Fort Manila offers a wide range of dining options, from casual eateries to fine-dining restaurants. Canton Road serves authentic Cantonese cuisine, High Street Cafe offers a buffet of international and local dishes, and Raging Bull Chophouse & Bar serves the finest steaks and craft cocktails. The hotel also has an impressive selection of bars and lounges, including the trendy Bar 21 and the stunning B&T rooftop bar.
Facilities
The hotel's facilities are designed to cater to the needs of every guest. The fitness center is equipped with the latest exercise equipment and offers fitness classes and personal training sessions. The outdoor swimming pool is surrounded by lush gardens and provides a tranquil oasis in the middle of the city. The hotel also has a full-service spa, a business center, and several meeting and event spaces.
Location
Shangri-La The Fort Manila is located in the heart of Bonifacio Global City, a bustling district that is home to numerous restaurants, shops, and entertainment venues. The hotel is just a short walk away from the Bonifacio High Street, a popular shopping and dining destination, and is also close to several other attractions, including the Mind Museum, the Manila American Cemetery and Memorial, and the Ayala Museum.
Shangri-La The Fort Manila is a luxurious haven in the heart of the city that offers exceptional service, world-class facilities, and a prime location. Whether you are visiting Manila for business or leisure, this hotel is the perfect destination to experience the best that the city has to offer. Book your stay today and discover why Shangri-La The Fort Manila is one of the most sought-after hotels in the Philippines.